︎Back to Community Design
Spring 2021 ︎ SUNY Purchase ︎ (DES4100) Community Design

Introductions & Expectations
(please note that this is pretty long so that you can reference it later.)

Syllabus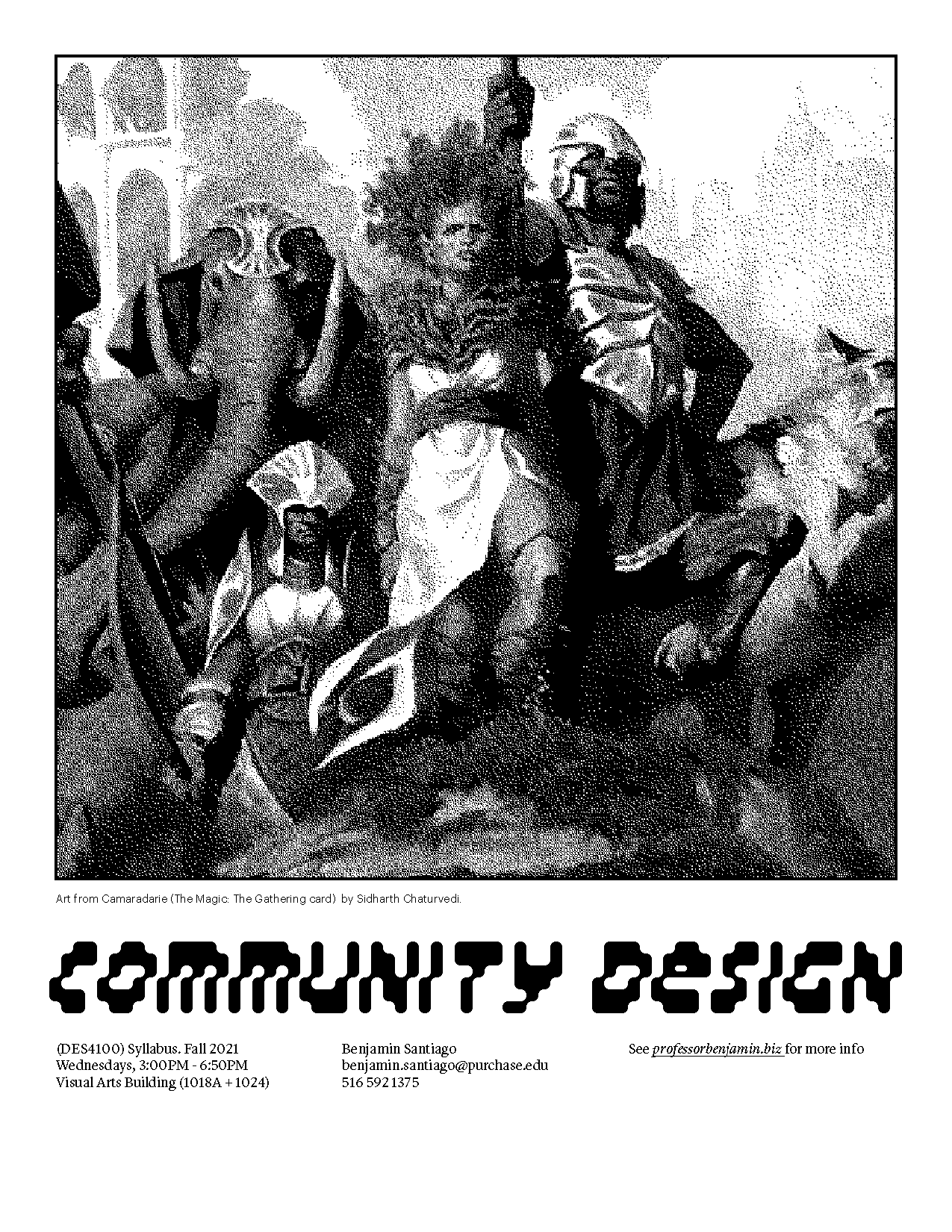 Background
Here's the official description of the class:

Brings senior graphic design students together in a collaborative design studio, simulating a "real world" professional studio situation. Students work directly with on-campus and nonprofit off-campus clients. Under the supervision of the faculty member, the students assume complete responsibility for the concept and development of multiple design solutions, production, printing, scheduling, maintaining client relationships, billing, etc. Required for graphic design majors.
We will be doing a version of this, but I'd also like to take the time to consider the a big question: What is Community?


Synopsis

In order to accomplish this we'll be doing the following:

Breaking up into predetermined teams.

Working with clients; receiving briefs, discussing an approach, iterating and distilling outcomes and deliverables.

Have readings, viewings and guests that examine the central question of the class.

Conduct non-commercial projects and exercises as a way of said question.

A Note on Teams

Part of this class is working in teams. For grading, your individual contributions whether they get selected for the final piece or not will be considered. Please make an attempt to record or track chats and communication; especially if you are more involved in the organization of your other team members. Normally, this is fairly apparent but I do recommend trying to capture what non-design work you may be doing. Teams can vibe well together or create tension, attempt to work with it to the best of your ability. If there's an issue with the teams we'll talk through, and currently my goal is to re-shufle the teams midsemester.


Learning Objectives
Increase your proficiency and experience regarding the management of client relationships and related professionalization.
Increase your proficiency, sensitivity, and awareness regarding working collaboratively, and collectively.
Increase your proficiency, sensitivity, and awareness regarding the societal role of (graphic) design and its applications that are not necessarily capitalistically oriented.

Required Materials
(If you have an issue with any of these let's at least talk about and see what is possible to make things work)
Computer with Adobe Creative Cloud

Access to Adobe's Fonts (through Creative Cloud)

A Dropbox, OneDrive, Google Drive or similar file sharing account with which to share your homework assignments, progress and sketches.

Reasonably stable internet connection (for synchronous Zoom sessions).

A sketchbook of some kind, that you are prepared to document and share. (I'm partial to the Muji Passport Memo pads as they are easy to keep in your pocket. Rhodia also makes a similar book. This can also be partially or completely digital. Milanote and Notion, tools like are.na, or pinterest are also useful. I might be one of the five people still on tumblr, but I like tumblr as well. Be prepared to share this supplemental work with each of your assignments).

Attendance

As you know, SUNY Purchase, specifically the School of Art+Design, has a rather oppressive attendance policy (emphasis is my own):


There are no excused absences in the School of Art+Design. Three or more absences in any course will result in a failing grade. Excessive tardiness may count as absences. Please see your course syllabi for more details.

This is mostly a good thing, in that it places emphasis on being in class together. However, the realities of life may make this policy feel more draconian than what it was intended to be.


Be on time for class, within 10 minutes of the class's start time, or...ya late.
Three latenesses = 1 absence.

Being on time, ideally, means arriving a little bit before such that you're ready to go at the class start time. This is most important for critique if we need to hang up work, or send files to one another.
I will send an advanced warning to everyone if I'm in danger of being late.
Leaving class early without a valid reason (valid meaning, letting me know before class that you have to leave early) counts as being late.
If you leave without explanation more than an hour before the class is done this will count as an absence.
It sucks to have to repeat the same thing again, so if you're late, I will not go back and re-teach any demos or concepts until after a demonstration or discussion is done. Please don't disturb another student who was on time unless they are ahead and able to help you.
If you have a medical condition, job, or something going on personally that prevents you from getting to class on time, completing work, or being in class the entire duration please discuss it with me so I know.


TL;DR be on time and just be in contact with me in advance if you are going to be late or cannot attend class, I will do the same for all of you.


Grading (the class)

Your grade will be divided between your work, your participation, and your team contributions. You'll also receive extra points per project for je ne sais quoi; that is extra "subjectivity points" you may get per project.

I find most descriptions of the grading process a bit vague. Here's an attempt to explain each grade letter by what through what two hypothetical people did in a semester for each grade; in as few words as possible. See the following if you're interesting in Purchase's grading guidelines.

SUNY Purchase Grading Guidelines︎

I find most descriptions of the grading process a bit vague. Here's an attempt to explain each grade letter by what through what two hypothetical people did in a semester for each grade; in as few words as possible.


A
I have to tell you to stop participating in class discussions & your work consistently goes beyond the boundaries of the assignment (in a good way).
You are somewhat timid in class but your work possesses a certain je ne sais quoi, or your work is more advanced and you are forced into this class by some twist of fate.
B
Your work is well constructed and shows a noticable amount of effort and dedication, is submitted on time and you participate frequently in class. You were late to six classes without discussing with me at any point in the semester that you have a job, and your shift ends right before class.
Your work almost always shows an excellent level of effort and exploration, however you struggled significantly with between one and two projects.
C

You've shown up to class on time for every class, you've done the minimum requirements for every assignment, and you rarely participate in class discussions and critiques.

You communicate and participate in class discussion, but not to the degree where I'd have to tell you to stop to let other people join in. You submitted several of your assignments late but they showed promise and effort.
D & F
(If you are in danger of getting a D or an F,
you will more than likely be notified in advance)

You did (almost) nothing during the semester, the work you did hand in was multiple weeks late, you have to be reminded (constantly) to get off your telephone.

Your work was extremely shoddily constructed and seems like you made it a couple minutes before class and you were absent for three weeks without letting me know.


All assignments are due on the date outlined in the physical project sheet & project web page. The following conditions constitute a late assignment:

You don't have your project with you in any form.
Your project required it be sent in some form (ie via email), in advance and you did not send it.

You had an extenuating circumstance preventing you from completing the assignment, however you did not communicate with me at least 24 hours prior to class or figure out an alternative method of delivery.

Late work is subject to the following conditions:
Your work will not be critiqued.

You may submit your assignment again any subsequent week, however you will lose an entire letter grade for your assignment each week.
The point here is all assignment due dates are (almost always) attached to a critique. Critique is super important to me, and valuable to your development as a designer (and human). A critique where everyone has their work, everyone talks about each other's work, and everyone has put a suitable amount of effort into their work to help generate conversation is a good critique. I totally understand the reality of doing things at the last minute, however handing things in on time, planning, and communicating with clients and colleagues effectively is part of your job.
About me

I live in Ridgewood, Queens with my three cats Cumberbund (misspelling intentional), Titus, and Booger and my partner Hailey. I'm not going to link my work here, but you may have seen it in other contexts. My art stuff is linked here, and my (currently super out of date) animation stuff is here. I just don't want any of my work to have any implication about what I consider good in class, but I'm happy to talk about whatever you'd like.


About y'all
So here's your first team building exercise, I may consider not doing this but I will more than likely go around and have people say what's up, how their summer was, etc.

︎Back to Community Design