︎Back to Senior Capstone
Spring 2021 ︎︎︎ CUNY Queens College︎(ARTS395) Senior Capstone
Introduction & Expectations
(There's a lot of text here, this is mainly for reference & clarity)


Background

The purpose of this class is to help you in the process of professionalization, focusing on:


what work do you have now?
what work do you want to make?
what is your creative "voice"?
how can you make this sustainable in a capitalist context?

I will facilitate and give strategies, but this is largely about what you want to do and you sustaining and nurturing your work and practice. I will also encourage and help you, but also be prepared for real talk on timelines/feasability and the like.


Objectives

The Senior Capstone project is a design project that you will work on for 10 weeks.

You may not finish a project started in another course. This is a self-initiated project: you will
propose a project of your choice, develop a work breakdown, manage your own timeline, and
submit a case study at the end of the semester.

The purpose of the capstone project is to round
out your portfolio with a personal statement that unifies your technical skills, conceptual skills,
and creative problem-solving abilities.

Your project can fall under any of these design disciplines: visual identity and marketing, advertising
user interface, publication, packaging, motion graphics, environmental design, art and illustration.


Your responsibilities

Do the work ︎ This is pretty much what it is, there are assignments and you have to do 'em. As much as you can learn with your brain, you have to give your body the time to really internalize that knowledge; you have to practice. Your first idea will often not always be your best, just start.


Participate & Communicate ︎ Graphic design is not simply about designing graphics. Dealing with and winning clients, pitching work, helping colleagues, and simply showing up on time are all part of the practice of being a graphic designer. To that end, your work does not exist in a vacuum or speak for itself; you have to justify your decisions, appreciate, challenge and question your peers as well as me. If you feel uncomfortable talking, please figure out a way to communicate: email, text, etc.


Be real ︎ This ties in with all the other components above, if you have something going on personally, I'm happy to talk about it wherever and it whatever way is comfortable. I can't guarantee that I can help, but for example I don't want to single you out about getting off your phone or participating in class if you have something heavy going on in your personal life. Similarly, we should be able to be kind but realistic with our peers in critique and be able to help them grow and not personally attack them, but be kind and forgiving if we offend each other.


Required Materials
Sketchbook/some repository for ideas & process documentation︎
Work doesn't come out of a vacuum. It requires concentrated effort over time, and letting bad ideas that make way for good ones. I think through drawing, so I keep a sketchbook. I like the small Muji ones that are passport sized and you can keep in your pocket at all times, but I've also used bigger spiralbound ones (they can always lay flat).


Digitally I'd recommend Milanote, Notion, Are.na, Tumblr, Pinterest, Dribbble. Make sure it is publically viewable.


A digital repository for your work files and final output ︎

Computing device︎

Adobe Creative Suite︎

Access to typefaces︎

System typefaces are totally fine at the end of the day. In fact, it took quite a bit of effort to get "pretty" typefaces onto home computers︎


but this is the time to try some freaky shit

and understand what you do and don't like.



Attendance
Here's the official Queens College attendance policy (pg.4 of this document)


By registering in a course, the student assumes the obligation to fulfill the requirements set for that course by its instructor. Although absence in and of itself shall not affect a student's grade, students are responsible for such activities as participation in class discussions, laboratory sessions, field trips, etc.; the preparation of papers and reports; and the taking of quizzes and examinations, any or all of which may constitute a component in the final grade for the course. In addition to observing the regulation regarding withdrawal from a course, students are expected, as a normal courtesy, to inform the course instructor of any prolonged absence or withdrawal.

I am not obligated to fail you simply because you are absent, or have acrued a certain number of absences, which is a good thing. However, being in class and your subsequent participation is part of your grade. Between three absences without any advanced warning is where you are in very clear danger of failing.

Be on time for class, arrive within 10 minutes of the class's start time. Being on time means arriving a little bit before such that you're ready to go at the class start time. This is most important for critique if we need to send files. I will send an advanced warning if I'm in danger of being late. Leaving class early without a valid reason (that means letting me know before class that you have to leave early) counts as being late. If you leave without explanation more than an hour before the class is done this will count as an absence. Two latenesses will count as half a grade reduction.

It sucks to have to repeat the same thing again, so if you're late, I will not go back and re-teach any demos or concepts until after a demonstration or discussion is done. Please don't disturb another student who was on time unless they are ahead and able to help you.

If you have a medical condition, job, or something going on personally that prevents you from getting to class on time, completing work, or being in class the entire duration please discuss it for me so I know.


Grading (the class)

I find most descriptions of the grading process a bit vague. Here's an attempt to explain each grade letter by what through what two hypothetical people did in a semester; in as few words as possible.


A
I have to tell you to stop participating in class discussions & your work consistently goes beyond the boundaries of the assignment (in a good way).
You are somewhat timid in class but your work possesses a certain je ne sais quoi, or your work is more advanced and you are forced into this class by some twist of fate.
B
Your work is well constructed and shows a noticable amount of effort and dedication, is submitted on time and you participate frequently in class. You were late to six classes without discussing with me at any point in the semester that you have a job, and your shift ends right before class.
Your work almost always shows an excellent level of effort and exploration, however you struggled significantly with between one and two projects.
C

You've shown up to class on time for every class, you've done the minimum requirements for every assignment, and you rarely participate in class discussions and critiques.

You communicate and participate in class discussion, but not to the degree where I'd have to tell you to stop to let other people join in. You submitted several of your assignments late but they showed promise and effort.
D & F
(If you are in danger of getting a D or an F,
you will more than likely be notified in advance)

You did (almost) nothing during the semester, the work you did hand in was multiple weeks late, you have to be reminded (constantly) to get off your telephone.

Your work was extremely shoddily constructed and seems like you made it a couple minutes before class and you were absent for three weeks without letting me know.



Grading (assignments)

Assignments will be graded on the following criteria: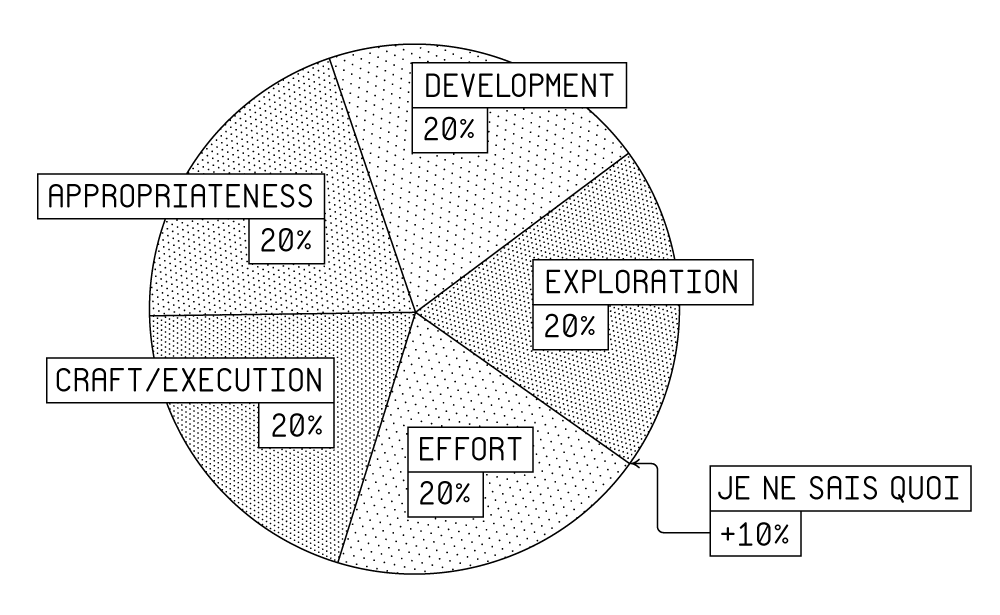 Appropriateness (20%) ︎Is the outcome related to the prompt? Did you follow whatever directions were involved and meet the minimum requirements?


Craft/Execution (20%) ︎ This encompasses both digital and "analog" craft. If you needed to trim something, is it trimmed cleanly? Is your print out all wrinkled and shit? If I examine your files, are the layers well organized?


Effort (20%) ︎ How many versions did you try? Did you simply go with your first idea? Did you attempt something outside of your comfort zone (which might take more time)?


Exploration (20%) ︎ Did you attempt one or more of the challenges in the project sheet? Did you learn a new piece of software or technique not outlined in the project? Did you do extensive research about a topic related to your piece?


Development (20%) ︎ Does the project reflect an evolution in your personal development as a designer?


je ne sais quoi (+10%) ︎ Je ne sais quoi is French for "I know not what." Grading + subjectivity is hard, to that end, I'm adding an additional 10% for that. I will not grade you above 100% for an assignment but I will "bank" this factor for extra credit. This also includes the "no shuriken mode" challenges which will be part of all assignments.

All assignments are due on the date outlined on the project web page. The following conditions constitute a late assignment:

You don't have your project with you in any form.
You had an extenuating circumstance preventing you from completing the assignment, however you did not communicate with me at least 24 hours prior to class

or figure out an alternative method of delivery.




Late work is subject to the following conditions:
Your work will not be critiqued.

You may submit your assignment again any subsequent week, however you will lose an entire letter grade for your assignment each week.
All assignment due dates are (almost always) attached to a critique. Critique is super important to me, and valuable to your development as a designer (and human). A critique where everyone has their work, everyone talks about each other's work, and everyone has put a suitable amount of effort into their work to help generate conversation is a good critique. Additionally, as we will get more into, being a graphic designer is not simply about being a designer of graphics. I totally understand the reality of doing things at the last minute, however handing things in on time, planning, and communicating with clients and colleagues effectively is part of your job. Often times being fun and easy to work with can make up for a lack of raw "talent."



About Me
I live in Ridgewood, Queens with my three cats Cumberbund (misspelling intentional), Titus, and Booger and my partner Hailey. (I used to have this stuff embedded here but Cargo is determined to destroy me). I'm not going to link my work here, but you may have seen it in other contexts. My art stuff is linked here, and my (currently super out of date) animation stuff is here. I just don't want any of my work to have any implication about what I consider good in class, but I'm happy to talk about whatever you'd like.


About y'all
As a way of introducing yourself and making sure you are part of the class please do the following before next week:

Link to current portfolio materials in the assignment spreadsheet (a website or a folder with curated content)
Post that link in the class Slack workspace in the #intros-n-portfolios channel and take a screenshot of your post. Also introduce yourself. What you think you'd like to work on, your interests, if you have pets, what was the last movie you saw. Please just add something of your personality so I can start mapping your face, your name, your work and your self together.(I won't be as pedantic with uploading in the future this is mainly to get used to the process and make sure everyone is on the ball)

Additionally, identify a block of time that you'd prefer to meet for future individual and group meetings. Refer to my youcanbook.me for reference.
︎Back to Senior Capstone