︎Back to Community Design
Spring 2021 ︎︎︎ SUNY Purchase ︎︎︎ (DES4100) Community Design
Project: Create a "Snowball"
Background
This project is intended to tie into the viewings/readings for "What is Community?" and future ones we will have.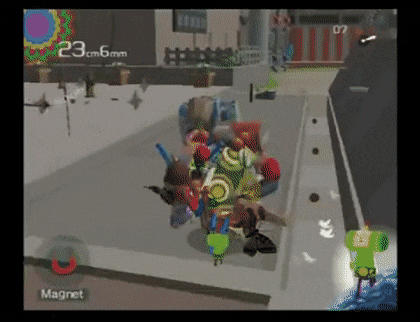 As you live your life, you "pick up" influences not unlike a katarmari damacy ball. These could be influences on your taste, your personality, your behavior, how you talk, how you think, etc. They could be from your family, friends, culture at large, "society" and the like. As you acrue those influences, you grow. Your ability to influence other people grows, and your necessity to take up space as a person grows, and hopefully your connections with other people who generate their own influences grows (this is kinda where the analogy breaks down).

I frame this project as a "snowball", since internally, that growth is hard to notice, but sometimes as you feel yourself gain influence you realize your growth; "snowballing" is usually meant to imply exponential or explosive growth.

I will not frame a specific form for the final product, but know that I'm looking for something that reflects three/four weeks of reflection and work. That being said, know that one thing I am more aware of is a lack of "infographic" or information design in other classes, so if you are totally stuck I would say that taking your (thoughtfully constructed) mind map and making it into a poster in Illustrator is worthwhile.


Overview

Create a "snowball" (see above)


Requirements

This is an individual assignment, not a team one; everybody's gotta do it.

If your piece is a durational one; for example a 10 minute video, please let me know before critique.
Please take the documentation of your process clear and robust. You may want to distill your work as you go forward to a simpler or more elegant form; so having your process be clear is important.
Again, if you are unsure where to go, a well-made and thoughtful mindmap is totally great, however attempt to interpret your self-examination at another level. Hopefully that is helpful for you.
Final Submission
A documentation of your "snowball" in some form that is clearly critique-able. It is possible that it takes the form of the following, but is not limited to:
a .PNG
a (well-animated) .GIF
an .MP4
a .PDF
a link
an XD prototype.
A folder containing all process work, sketches, notes, research and previous iterations.

(Please note that, doing these do not guarantee a better grade or extra credit by any fixed or demonstrable amount, but if you're doing or approaching these things, you're probably doing well. The point is that, like not using shurikens in Shadow Dancer, it is more difficult, and increases your proximity to the material. All this being said don't hurt yourself and consider your other assignments and mental and physical health. Additionally, if you are not feeling challenged by the class or an assignment, and these suggestions are not sufficient for you, please le me know.)

Make a 3D mind map that you could explore in something like Unity.
Make a "store" full products based on your influences via mockups in Adobe Dimension.
Pick a group of people in the class to share mind maps with and attempt to make connections.
Do a durational performance where memorize and recite all of the components of your mind map.
Process

If you are unsure where to start, I'd suggest to start with a mind map. Here's a really simple description on how to do that if you're unfamiliar. Look at your influences, the people that are important to you, components of yourself (physical, psychic, spiritual, emotional, behavioral, background, etc). I would attempt to be vulnerable here and really examine yourself. You don't have to reveal everything, you can censor things if you want, but generally I think really taking the time to self-examine will be ultimately helpful for you.


Relevant Dates
04/20/2020

︎︎︎

Introduction

04/27/2020

︎︎︎

Review of initial ideas/Questions.


05/04/2020

︎︎︎

Progress check-in


05/11/2020

︎︎︎

Critique pt.1

(work must be submitted this week)


05/18/2020

︎︎︎

Critique pt.2

︎Back to Community Design